PowerSchool Behavior Management (PBIS) Plugin
PowerSchool Student Management Plugin is an integrated suite of products that gives educators the tools they need to effectively manage student behavior data directly in PowerSchool.
Easily create log entries for students and keep all the stakeholders and parents informed via Email notifications. Additionally, create a referral to signal the escalation of a behavior to a dean or administrator and access powerful reporting tools to instantly see which students are falling behind or have exceeded expectations in academics and behaviors.
Plugin Features
Student Log Entry: Create log entries for students for any log type (positive behavior, negative behavior, contact) – The "Teacher Log Entry" function also allows a user to create multiple log entries for multiple students in one location.
Referrals: Create a Referral to signal the escalation of a behavior to a dean or administrator – Streamline Referral tracking through open and closed referral reporting.
Email Notifications: Send email notifications to the student, guardian, teacher, and dean(s).
Consequences: Track and manage consequences – Automatic conversion of negative points to a consequence or admin assigned.
Student Profile: Access a Student Profile to view all relevant academic, attendance, and behavioral data for a student in one location.
Reports: View current and historical log entry data by date, teacher, grade level, student group, and more.
Watch the Demo
Plugin Pricing
| | | |
| --- | --- | --- |
| Students <1000 | Students >1000 | Setup Fee |
| $149 per month | $0.15 per student per month | Free |
Additional Dashboards and Reporting
Our dashboard platform is a great way to track your school-wide and subgroup behavior details. With the dashboards, you can see an in-depth breakdown of each behavior along with its information. Our goal is to make all of the data available, so you can drill down into it easily and export it for additional analysis. It is a great way to identify trends over time so that you can keep a close eye on how your students are performing:
Student behaviors trend over time: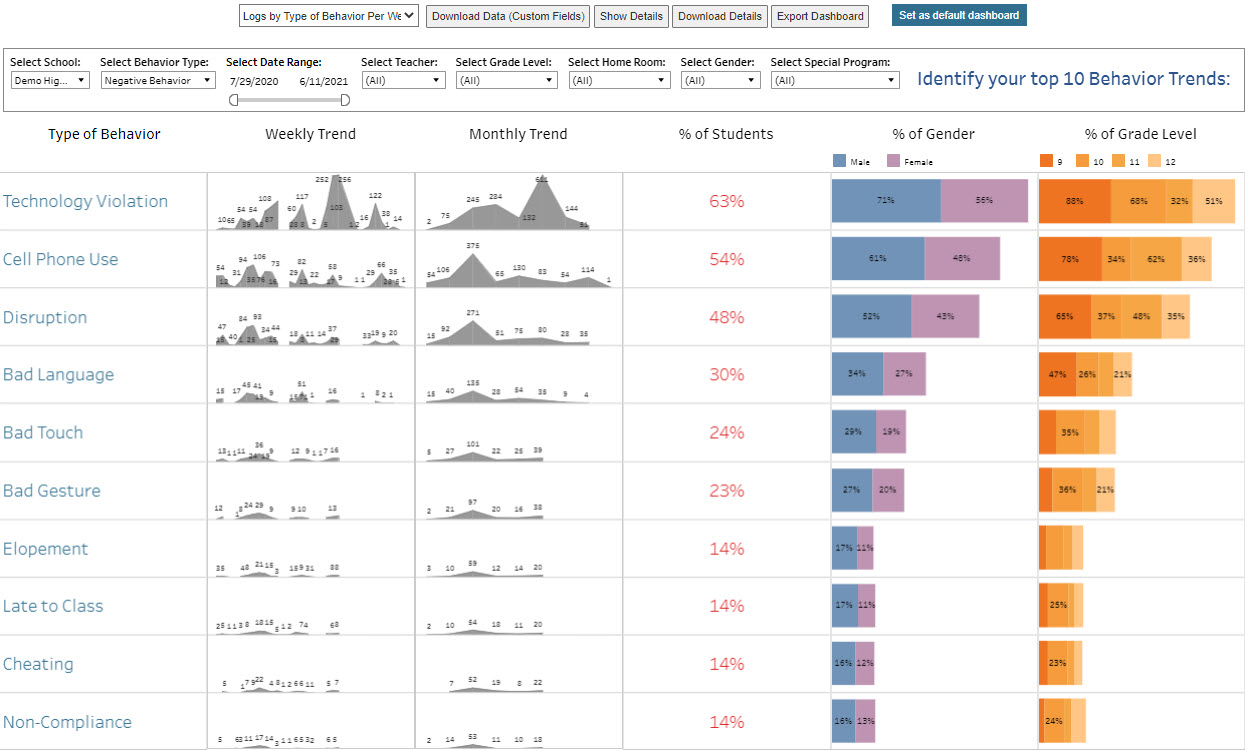 Student Data – All in one place: