PowerSchool Attendance & Tardy Scan Plugin
Enables schools to streamline attendance procedures, improve communication with families, and ensure accurate student records directly in PowerSchool. No External application is required.
Plugin Features
Daily Attendance: Create/update the Daily Attendance records for a student, including the "time in" and "time out."
Meeting Attendance:  Create/update the current and missing period(s) attendance records, including the teacher's comments and meeting Clock In/Out for accurate minutes per class.
Log Entry: Create a log entry with details of the attendance scan.
Email Notifications: Send email notifications to the student, parent/guardian, homeroom teacher, and current class period teacher.
Consequences: Track and manage scaffolded consequences.
Tardy Slip: Print a tardy slip/pass.
Open Campus: Easily Check-In/Out students from any location.
Plugin Demo
Plugin Pricing
| | | |
| --- | --- | --- |
| Students <1000 | Students >1000 | Setup Fee |
| $149 per month | $0.15 per student per month | Free |
Additional Dashboards and Reporting
Our dashboard platform is a great way to track your school-wide and subgroup attendance details. With the dashboards, you can see an in-depth breakdown of attendance along with its information. Our goal is to make all of the data available, so you can drill down into it easily and export it for additional analysis. It is a great way to identify trends over time so that you can keep a close eye on how your students are performing:
Student Attendance Dashboard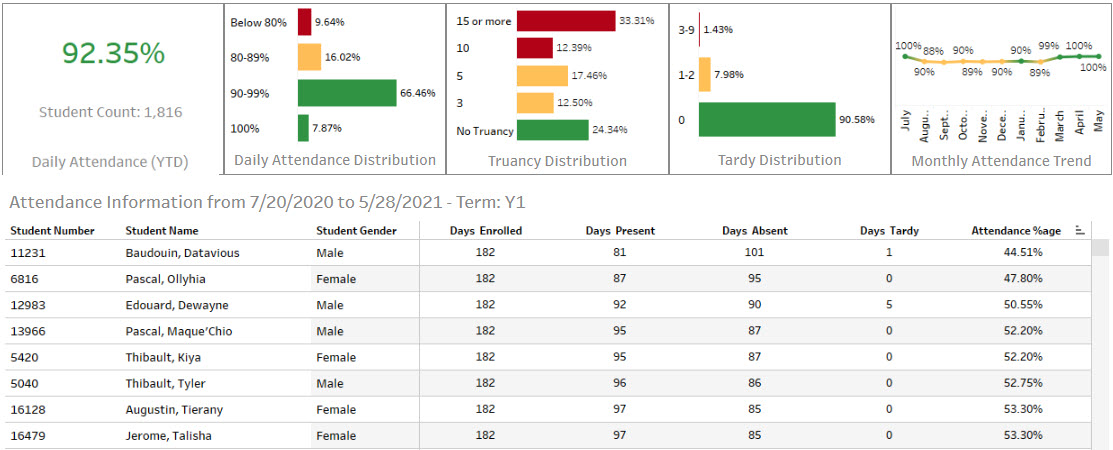 Student Data – All in one place: